Thirty-Fourth Annual McKnight Fellows Meeting
- Twenty-Second Annual Graduate School Conference

Friday - Sunday, November 2-4, 2018
Tampa Airport Marriott Hotel
4200 George J. Bean Pkwy,
Tampa, FL 33607
(813) 879-5151

Click here to register for the Conference now.

Click here to view the Conference Agenda.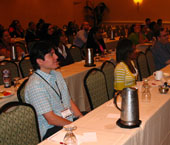 THE CONFERENCE

The Florida Education Fund (FEF) hosts its Thirty-Fourth Annual McKnight Doctoral Fellows Meeting (AFM) at the Tampa Airport Marriott Hotel at 4200 George J. Bean Pkwy, Tampa, FL 33607. The Conference is designed to address issues pertinent to the needs of matriculating graduate students, research scholars, and tenure earning professors. It will feature presentations by dynamic scholars who will share their research on important issues in graduate education and offer a series of panel discussions focusing on research in the major academic disciplines, critical skill development workshops on grant and dissertation writing, comprehensive exam preparation, and writing for publication. To ensure the success of this year's conference, your participation is vitally important. Dress/attire is business casual.
REGISTRATION FEE

The $70 registration fee for matriculating Fellows (see the registration form for all registration fees) includes access to all conference activities, planned meals, and double occupancy rooming. All Conference registrants will receive an official conference identification badge, and no one will be admitted into Conference activities without an official badge.
CONFERENCE BEGINNING AND ENDING TIMES

Conference registration will begin at 1:00 p.m. on Friday, November 2, 2018. We expect the Conference to end at approximately 2:00 p.m. on Sunday, November 4, 2018. Please make your travel arrangements accordingly.
LODGING FOR MATRICULATING FELLOWS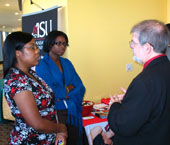 Lodging for matriculating McKnight Fellows is provided by FEF - DOUBLE OCCUPANCY ONLY. All matriculating students must check-in with the hotel if they sign up to stay at the hotel. Failure to do so will result in you being considered a NO SHOW, and you will be assessed a $70 per night fee to pay hotel costs.

Students choosing single room accommodations must indicate that choice on their registration forms and will be asked for a credit card at check-in to pay for the entire $131 room rate per night.

To lessen your financial burden, after the Conference, all matriculating McKnight Fellows (ONLY) who reserved a single room will receive a reimbursement check in the amount of $65.50 per night stayed. To obtain a reimbursement, please submit your request on the official reimbursement form with the ORIGINAL hotel bill attached. Note that all requests for reimbursement must be submitted by December 3, 2018. No exceptions.

Your registration form indicating your room preference must be received by the FEF by October 12, 2018. After October 12, 2018, you are responsible for obtaining your own room reservation with the hotel and securing it with a credit card. FEF will reimburse you $65.50 per night stayed ONLY with proper documentation.

Room cancellations made after October 12, 2018, and no-shows are subject to a $70 per night room cancellation fee for a shared room. When applicable, this $70 per night cancellation fee will be deducted from students' stipends.
LODGING FOR OTHER ATTENDEES

Lodging for invited speakers and presenters who are traveling to Tampa for the Conference is provided by FEF. Conference speakers and presenters should select a single room on their registration forms. Please register for the Conference by October 12, 2018, to ensure best hotel accommodations.

All other attendees (non-matriculating students, Exhibitors, MDF Alumni, etc.) should indicate on their registration forms that they want a self-paid single room prior to October 12, 2018, to ensure best hotel accommodations.
TRANSPORTATION (MATRICULATING FELLOWS ONLY)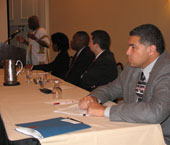 Important: The FEF will pay ONLY the LESSER OF either a discounted air ticket (air travel should be booked at least 2 weeks prior to flight time), compact car rental with unlimited mileage (reimbursable rental cars require preapproval by the FEF), or mileage to and from the Conference as verified by the State of Florida Department of Transportation/Transportation Statistics Office Highway Mileage Chart and/or as indicated on mapquest.com.

Any expenses above and beyond the least expensive method of travel will not be covered by the FEF. Original travel related receipts are required for applicable reimbursement. Please note the reimbursement request due date of December 3, 2018.
CONFERENCE DEADLINE DATES

| | |
| --- | --- |
| October 12, 2018 | All conference registration documents due in FEF office. |
| October 12, 2018 | All conference related fee payments (conference registration is considered complete when full payment of all conference fees are made). All conference registration fees are non-refundable after October 12, 2018. |
| December 3, 2018 | Conference reimbursement forms with original receipts must be submitted. No faxes or copies will be accepted. |
INQUIRIES

The Florida Education Fund
201 E. Kennedy Boulevard
Suite 1525
Tampa, FL 33602
(813) 272-2772
Fax (813) 272-2784, fef.jackson@verizon.net